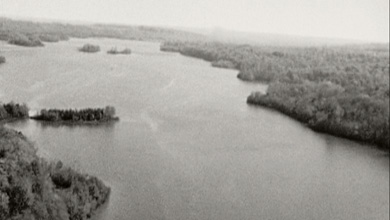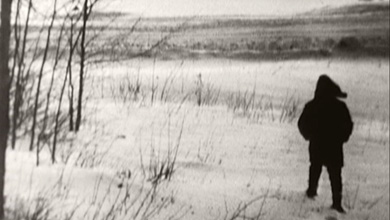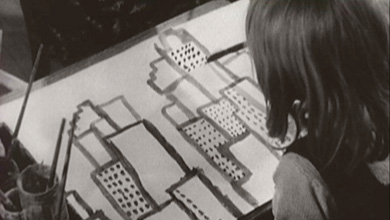 Along the Pale Blue River, written and directed by Ann Fessler, 9 minute experimental documentary, 2001, revised/re-released 2013
Synopsis
Told through a collage of recent video and archival film footage of the rural Midwest, Along the Pale Blue River is the story of a pregnant girl who flees her rural community for a city where she can be invisible.
Forty years later, propelled by a series of coincidences and a dream, the daughter she surrendered for adoption (filmmaker Ann Fessler) returns to look for a yearbook picture of her mother. There Fessler discovers the source of the river from her childhood home and realizes it has always flowed from her mother to her.
Continue reading Synopsis
Finished reading Synopsis
Information
Along the Pale Blue River, 9 minute experimental documentary, 2001, revised/re-released 2013. Produced, written, and edited by Ann Fessler.
Along the Pale Blue River was first exhibited as part of Fessler's Close to Home installation, where it looped continuously inside a corncrib. It was subsequently screened in galleries and at film festivals where it received awards in both the Short Documentary and Experimental film categories.
In 2013 the film was revised, technically updated, and re-released. It was included in the Home Truths: Photography and Motherhood exhibition, curated by Susan Bright, that traveled to the Foundling Museum and Photographers Gallery, London; the Museum of Contemporary Photography, Chicago; and the Belfast Exposed Gallery, Belfast, Northern Ireland. A book of the same title edited by Bright, with essays by Susan Bright, Stephanie Chapman, Nick Johnstone, and Simon Watney, and work by artists in the exhibition including Elinor Carucci, Janine Antoni, Leigh Ledare, Tierney Gearon and others, was published by Art/Books in 2013.
A video interview with Fessler at the Foundling Museum, London, is available here:

Continue reading Information
Finished reading Information
Trailer