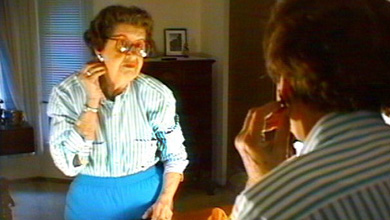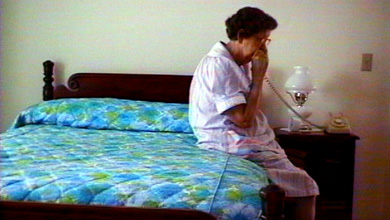 Cliff & Hazel, 25 minute documentary film, 1995, 1999. Directed, written, filmed, and edited by Ann Fessler. Online editor Amanda Ault.
Synopsis
Cliff & Hazel is an adopted daughter's humorous and poignant portrait of the parents that shaped her identity. Fessler documents a trip home to celebrate her mother's 80th birthday. It's her first trip home since the death of her father and words come easier in his absence.
Hazel is outspoken about her anti-women's liberation views, and tells her feminist daughter that men are smarter than women. The proof, according to Hazel, can be found on the television program Jeopardy, where there are always more men than women. As the film progresses, the complexities of Hazel's life begin to unfold, and a made-for-tv movie about adoption prompts an emotional confession. Cliff & Hazel is a story about the complex nature of identity formation and family relationships, especially in families brought together by adoption.
Continue reading Synopsis
Finished reading Synopsis
Information
Cliff & Hazel was first exhibited as part of Fessler's Cliff & Hazel installation, where it played on an old console TV in a space that replicated Hazel's living room. The film was screened at film festivals and it received awards in the Short Documentary category. More recently, Cliff & Hazel has been screened as a double feature with A Girl Like Her.
The film was made possible, in part, by a technology residency at Banff Centre for the Arts, Alberta, Canada (1996), and a post-production residency at the Wexner Center for the Arts, Columbus, Ohio (1999).
Continue reading Information
Finished reading Information
Trailer